Star Wars Costumes Australia
In a galaxy not so far away, lies a place called Costume Crazy... an awesome costume store that just happens to stock an extensive range of incredible Star Wars-themed costumes and accessories! If you or your child has an upcoming Halloween party, birthday party or other dress-up event, Costume Crazy's collection of Star Wars costumes is something you can't afford to miss!
What Type of Star Wars Costumes Do We Provide?
Want to dress up as the villainous Darth Maul or perhaps a noble Jedi Knight? Or maybe you're looking for a Princess Leia costume or Stormtrooper outfit? We have them all! No matter what you're interested in, we offer a variety of top-quality Star Wars costumes.
With over 100 Star Wars costumes to choose from in mens, womens and childrens sizes, you're guaranteed to find the perfect costume.
Did we mention we stock lightsabers, too? No Jedi or Sith Lord outfit is complete without the ultimate Star Wars weapon in their arsenal!
To complete your Star Wars costume, view our large selection of accessories, which includes masks, wigs, shoes, makeup, party supplies and of course, lightsabers!
Facts About Star Wars
The Star Wars franchise has some little known secrets. Did you know that:
Yoda was almost played by a monkey
During the 2001 census, more than 70,000 of the Australians identified themselves as been a part of the Jedi Knight religion
NSYNC almost had a cameo appearance in Attack of the Clones but were later edited out
No female fighter pilots were included in the original trilogy
The Ewok language is made up of a combination of Nepalese and Tibetan
How many of these did you know? Tell us on our Facebook page!
Browse Our Collection Today!
As the #1 place online to buy costumes in Australia, Costume Crazy is proud to bring you a huge selection of over 30,000 costumes and accessories, at prices you can afford.
Be the best dressed at your next costume party or event and get your hands on one of our amazing Star Wars costumes today!
Browse our collection of Star Wars and Sci-Fi themed costumes below!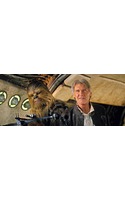 Blog
So the second Star Wars teaser has dropped, and we couldn't be more excited. The trailer features the familiar desert landscape, a few sweeping shots of the Millennium Falcon –pretty standard Star Wars, right?
---