Why We're Excited About Batman vs. Superman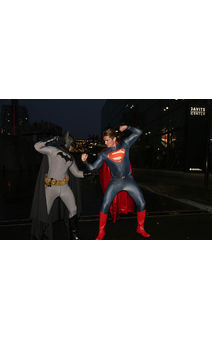 It's the dawn of a new era for two of our favourite superheroes of all time—brace yourselves for Batman vs. Superman: Dawn of Justice. It's tipped to be the best new DC flick to grace the big screen!
The never-before seen pitting of Batman against Superman has been hotly anticipated by fans across the globe and, finally, we have confirmation of its much-awaited release. The question of who would win if Batman and Superman got into fisticuffs is one of those age-old arguments that true DC devotees never tire of talking about!
Countless fans of both characters have debated the million-dollar question since childhood and many adults are finally going to see what the result will be in all its cinematic glory. We're guessing a few phrases of "I told you so" will be heard, as well as smugly-placed bets won in theatres across the world.
So here is why we at Costume Crazy are excited about the new Superman vs Batman movie.
Top 5 Reasons We're Excited about the New Batman vs. Superman
1. Star-Studded Cast: with good ol' Baffleck as Batman, veteran actor Henry Cavill as Superman and Jesse Eisenberg as Lex Luthor, fans will be bursting out of their comic tees to see what this extremely gifted bunch bring to the table.
2. Sneaky Post-Credits Scene Conspiracy Theories: Marvel is known for its post-credits scenes that give audiences hints at future films in the same universe and rumours have been circulating that DC might start including cryptic clues at the end of its movies too. We're not sure what the next chapter might be—we'll just have to wait and see when we watch the premiere!
3. Scriptwriter Speaks Volumes: the very talented Chris Terrio of Argo fame is known for his ability to write engaging and fast-paced story lines. We are definitely super excited to see what clever dialogue and edge-of-your-seat twists he has created.
4. Guarantee of Kick-ass Combat: The fight scenes are tipped to be incredible and we're keen to see what moves the main rivals in Batman v Superman have up their sleeves. Most of all, we'll be eager to see who comes out on top out of what is expected to be among the most brutal superhero battle.
5. Wonder Girls: A healthy mix of girl power is also expected to be brought to the fore in this modern adaptation.
Israeli model and former soldier Gal Gadot was chosen to play this iconic character and judging from her past experience, she sounds like the perfect lady for the role, with just the right balance of feminine allure and don't-mess-with-me attitude!
Lois Lane will be played by Amy Adams, who also starred as Cavill's love interest in 2013's 'Man of Steel', so she is well acquainted with portraying the gusty character.
---